The story of EVOC chairman epitome of Shenzhen entrepreneurs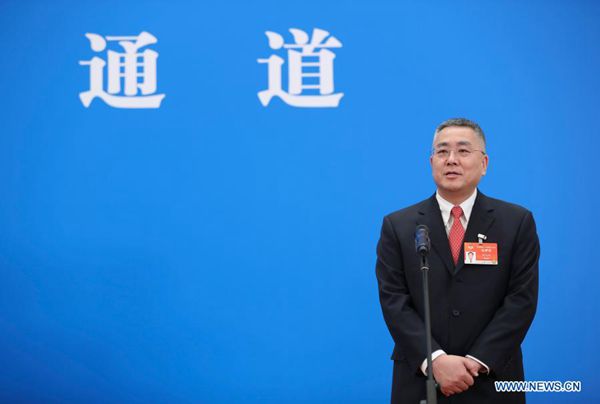 Chen Zhilie, a member of the 13th National Committee of the Chinese People's Political Consultative Conference (CPPCC), gives an interview via video link ahead of the second plenary meeting of the fourth session of the 13th CPPCC National Committee at the Great Hall of the People in Beijing, capital of China, March 7, 2021. [Xinhua]
During the fourth session of the 13th National Committee of the Chinese People's Political Consultative Conference (CPPCC), the country's top political advisory body, being held in Beijing, Chen Zhilie, a member of the 13th CPPCC National Committee and the chairman of EVOC Group, shared with the media how entrepreneurs in Shenzhen have succeeded due to the country's reform and opening-up policy.

"They followed the Communist Party of China; they dared to try new things; they tried to be self-reliant in science and technology and benefited from it; they are confident that the Chinese people are not inferior to others," he said.
"When I arrived in Shenzhen for the first time in 1991, I only had 500 yuan. And now the EVOC Group is one of the top 500 enterprises in the country," Chen added.
Were it not for the implementation of the reform and opening-up policy, the EVOC Group would not have been founded, he stressed.
Chen said that it was hard to run a private enterprise, and harder still to operate a high-tech private enterprise. It was necessary to be brave enough to seek innovation prior to other considerations even if the odds on failure for innovators are much bigger than people adhering to past practices.
He said the reform and opening-up meant Shenzhen's local specialty is no longer litchi fruit.
According to Chen, an important reason that there are many high-tech private enterprises in Shenzhen is that the entrepreneurs are grateful to the Party and are keen to give back to society and the country.