Head nurse's fight against COVID-19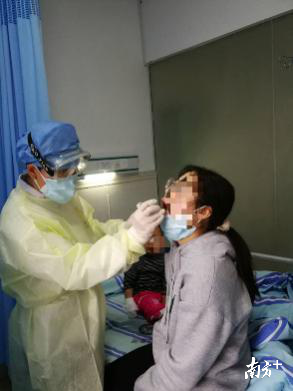 All medical staff are obliged to throw themselves into the fray at such dangerous moments.
Tian Qingyan is a head nurse of the Luohu Hospital Group, as well as a head nurse of the isolation wards to treat people infected by the novel coronavirus.
The sudden outbreak of the epidemic ruined her Lunar New Year plans.
"What is the disease? How contagious it can be? What can we do?" Questions like that had puzzled Tian in the wake of the outbreak of the epidemic.
Yet there could not be any retreat, and all medical staff are obliged to throw themselves into the fray at such dangerous moments.
Tian and her co-workers forsook their holidays and cancelled their air and railway tickets home, and start learning about the new virus and its control and prevention immediately.
"They are all lovely children, and I must take good care of them. This is my duty!" Tian often reminded herself of that. So, she repetitively teaches the nurses how to use the protective overalls, and checks whether they are wearing their face masks correctly. Many nurses say she looks like a mother to the nurses.
Since the hospital she works in is a comprehensive one, it must be rezoned strictly according to the requirements of an epidemic hospital. Tian and other department heads led the work and finished the task in a short time.
The medical observation, sample taking, treatment and sterilization are the all risky jobs. Under the guidance of epidemic experts, Tian and the nurses have tried to optimize every procedure.
She still remembers that the first patient testing positive came on the Chinese New Year\'s Eve. Tian came to the hospital immediately after receiving a phone call from the hospital. She worked until 3 a.m. on the second day, busily sterilizing the wards.
"Seeing the nurses\' sweat-drenched white gowns, and the indentions the protective goggles left on their faces, I knew it would be a protracted war without gunpowder smoke," Tian said.
"I hope all of them can come back from the war safe, intact and sound. That will be a victory to me," she added.